Bookstore & Trinket Shoppe
You'll feel as though you have stepped into another place & time. The Bookery is a quaint little shop housing more than 20,000 used books of all sorts and a distinctive collection of Celtic Jewellery, Trinkets, Treasures and Wares.The Bookery buys and sells used contemporary, scarce, antiquarian and collectible books. We began trading in books in August 2000. Since then we've grown and acquired an impressive collection. We are most proud of the reputation we have earned for being knowledgeable, fair and honest.
More About Us
Our Celtic Jewellery: Sterling Silver, Pewter and Bronze ~ Irish, Scottish, Welsh, Norse, Druid & Spiritual.Trinkets and Treasures. A curated collection of new and vintage decor, statuary, leather journals & bags that nestle nicely in an office, den or library aesthetic.Metaphysical Wares: Jewellery, Smudge, Incense, Crystals/Gemstones, Meditation Aids, Essential Oils, Candles, Salt Lamps & Diffusers.Visit our quaint little red brick shoppe at 191 Saint Andrew Street West in downtown Fergus, Ontario. Canada
Visit Us
For current business hours, store photos, customer reviews and more, please click the View larger map link in the map below.We're directly across the street from the Fergus Public Library in downtown Fergus, Ontario. 20 minutes north of Guelph on Highway 6, half an hour from Orangeville and barely 45 minutes from Kitchener-Waterloo.There's a parking lot directly behind the store off Provost Lane, another parking lot behind it on St. Patrick Street at the Curling Club, and yet another behind that one, further up the hill, on St. George Street. Lots of parking!
Peek Inside
Wondering what you'll find at The Bookery? Let's have a look...
Videos
A small (but growing!) sample of short videos highlighting various features of The Bookery.
Events
Featuring events sponsored by The Bookery and other activities in downtown Fergus.
Fergus Ghost Walks
Join our actors/historians as they lead you on a lantern walk and guided tour of the mysteries and histories of one of Canada's most haunted villages. You'll learn about the gristly end of the town clockmaster, the bagpiper's lament, the famous doctor with a dark secret, the legend of the Ancient Ones and many more captivating stories from the early days of Fergus.
The walk takes about an hour and a half and covers a good portion of downtown Fergus, including a steep hill and some uneven ground. It could be challenging for people with mobility issues. Children are welcome, but please be aware that it is not intended as a children's event. Younger children will soon become bored.
Fergus Ghost Walks begin at the Bookery at 7:30pm sharp.
Tickets for the Ghost Walk are limited. If online tickets are sold out there may be in-person tickets available. Email shoppe@ bookery.ca (no spaces) for information. The walks usually sell out and there are rarely tickets available on the day of the walk.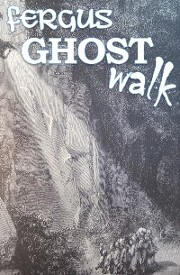 ---
Chess Event - Play the Master!
Here's your chance to play one of Canada's top-rated chess players!
We're excited to announce that International Chess Master Mark Plotkin is joining us during CogsAndClockwork - Fergus Steampunk Festival. Mark will take on all comers, playing up to 10 games at once.
September 9, 2023
3:00pm - 7:00pm
In front of The Bookery in downtown Fergus (191 St. Andrew St. W)
If it's raining we'll move indoors, down the street at Echoes (240 St. Andrew St. W)
How to participate: it's a drop-in event. As soon as a board is free you can start a game. Mark will play the same colour in each game (usually white). Always wait until Mark is in front of your board before you make your move. When your game is finished, please give up your seat to the next waiting player.
About Mark Plotkin
Mark is a professional chess coach based in Toronto. He is one of the highest-ranked chess players in Canada, holding a Canada Chess Federation ranking of  2515 and a FIDE rating of 2353. He learned to play at the age of four from his father Viktor (also a chess master) and has played in numerous national and international events.
---
Psychic & Spiritual Readings
Palm Reading
A Guide to Life's Secrets with Ellen McBride. What will your hands tell you about where you've been, where you are now and the endless possibilities of where you can go. Ellen has studied Palmistry for over 13 years. She has been reading professionally for a decade. Her experience and expertise amazes even the most sceptic of patrons. As the hands reveal secrets that you never knew you knew. Fee is 50.00 / half hour.Rune Casting & Readings with Ryan Leis
Ryan makes his own Runes on his Forge. You may have met him at the Fergus Medieval Faire. Ryan teaches Nordic History and Rune casting. Learn more about this ancient Nordic alphabet and experience an authentic Rune Reading. Readings are $20.00.Divine Guidance with Lilli Peterson
Lilli has 20 years experience as a Medium / Angel Spirit Guide. She connects with spirit guides through mediumship using Angel Oracle cards as affirmation. Her readings can bring guidance, peace and insight. $50.00 per half hour.Celtic Henna Tattoos and Celtic Oracle Readings with David Rankine
Tattoos starting at $20.00
Oracle Readings are $50.00 per half hour
2023 Schedule
All readings take place at The Bookery. Email or call for details and appointments.May 27 11am - 6pm (Fergus Fibre Festival)
o Palm Readings with Ellen
o Intuitive Tarot with Lilli
o Henna Tattoos with David
o Celtic Oracle with DavidJune 24 11am - 6pm (Downtown Fergus Sidewalk Sale)
o Palm Readings with Ellen
o Intuitive Tarot with Lilli
o Henna Tattoos with David
o Celtic Oracle with DavidJuly 22 11am - 6pm (Fergus Medieval Faire)
o Palm Readings with Ellen
o Intuitive Tarot with Lilli
o Henna Tattoos with David
o Celtic Oracle with David
o Turkish Coffee Readings / Tarot - SandiAugust 11 / 12 (Fergus Scottish Festival)
August 11 3pm - 7pm
o Palm Readings with Ellen
August 12 11am - 6pm
o Rune Casting with Ryan
o Intuitive Tarot with Lilli
o Henna Tattoos with David
o Celtic Oracle with DavidSeptember 9 noon - 7:30pm (Fergus Steampunk Festival)
o Palm Readings with Ellen
o Rune Casting with Ryan
o Intuitive Tarot with Lilli
o Henna Tattoos with David
o Celtic Oracle with David
o Turkish Coffee Readings / Tarot - SandiOctober 13 11am - 6pm (Friday the 13th)
o Palm Readings with Ellen
o Rune Casting with Ryan
o Intuitive Tarot with Lilli
o Henna Tattoos with David
o Celtic Oracle with David